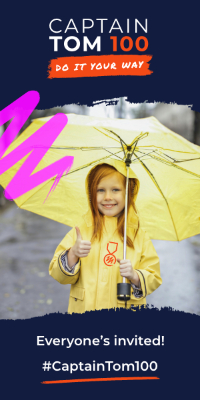 Captain Tom 100
On 6 April 2020, Captain Tom Moore set off from his garden to raise money for our NHS heroes. 100 laps later, he'd raised an incredible £38.9 million for the NHS Covid-19 appeal. Now it's our turn to build on his legacy. 
Everyone – of all ages and abilities – is invited to take on a challenge around the number 100 any time and anywhere over Captain Tom's birthday weekend, starting on Friday 30th April through to Bank Holiday Monday 3rd May. That could be walking 100 steps or running 100 metres, scoring 100 goals, baking 100 cakes, climbing 100 stairs, hopping 100 laps of the garden, building 100 sandcastles, writing a 100-word poem, flipping 100 pancakes – anything at all, inside or outside.
It's so simple. All you need to do is dream up your Captain Tom 100, fundraise or donate to Steps using our Just Giving or Virgin Money Giving pages and share your 100 on social media, using #CaptainTom100 – don't forget to tag Steps!
All money raised for Steps through the Captain Tom 100 will go towards our Laila's Steps Fund. 
 #1000footchallenge
As part of Clubfoot Awareness Week (World Clubfoot Day – 3rd June). we are asking that you and a group of friends pledge to climb 1000 feet. In 2021 we are Climbing Snowdon. Find out here how you can take part.
What do you have to do?
Simply sign up your interest here.  Then download the Steps Sponsorship form or set up your online JustGiving page here…  https://www.justgiving.com/campaigns/charity/steps/the1000footchallenge and plan your climb!  Follow us on social media for motivation and tips!
For more info, please click here
Runs
Every year, we have our own places in the London Marathon, the Great North Run, the Great Scottish Run and the Great South Run.  They offer the chance to compete in some of the UK's landmark athletic events, in return for raising a minimum sponsorship amount for Steps.
London Marathon
To sign up to the Virgin London Marathon please download the steps-Marathon-form, fill it out and send it back to us.  Places do go very quickly so be sure to get in touch as soon as possible.
If you're interested in applying for another run, then please email info@steps-charity.org.uk
If you have your own place in a major run, then we'd love to talk to you about how we can support you, if you choose to use the event to raise funds for Steps.
Great North Run
The Great North Run is the largest half marathon in the world, taking place annually in North East England each September. Participants run between Newcastle upon Tyne and South Shields crossing the iconic Tyne Bridge before continuing their journey to the beautiful coast of South Tyneside.
Download the application form here, email it back to us and we will confirm if we are able to offer you a place for this iconic event.
Great South Run
The Great South Run is the South coast's best 10-mile event and celebrates everything that's great about Portsmouth! We are delighted to have Pre-Registration places and to offer one to you! By running for Steps, you will help us raise awareness and much-needed funds so that we can continue to help all those affected by childhood lower limb conditions.
To sign up to the Great South run, then please click here to download the application form, email this to us and we will get back to you if you have a spot!
Great Scottish Run
Starting in the heart of Glasgow, runners soak up the atmosphere and music all the way to the finish in Glasgow Green. Runners follow a stunning route past the city's most famous landmarks, along the River Clyde and through some of Glasgow's greenest spaces. The city comes alive on Great Scottish Run weekend and the people of the city will welcome you with open arms. 
Download the application form here, email it back to us and we will confirm if we are able to offer you a place for this exhilarating event. 
You can Sky Dive for Steps!
Steps has teamed up with professional event organisers Skyline and we are looking for people from all over the country to make a sponsored 10,000 feet freefall parachute jump on our behalf. Everything you need to get started is enclosed in our information pack and we've made everything as easy as possible for you to take part.
The information pack outlines how we ask you to raise a minimum of £395 in sponsorship money after you have paid a £70 deposit.
Please  download our Steps Sky Dive information pack and we do hope you will decide to give it a go.
You can choose your dates and jump location.  We need your help to raise the funds to continue our vital work and don't forget, all you have to do is raise the minimum amount of sponsorship.  Please do contact us if you have any queries.
To book, visit: Skyline Online
Other Challenges
Every year, numerous charity fundraising challenge events are organised in this country and overseas.  These include:
Cycle rides
Mountain climbs
Triathlons
Long-distance treks
Swimathons
If you'd like to find out more about these and how you can challenge yourself and raise money for Steps at the same time, please just contact us.  We'd love to help you help us!