I was 8 years old when I was diagnosed with Perthes disease but am now 27 and living a full and healthy life. Those early years are some of the most vivid memories that I carry from my childhood. Whilst the news was devastating at the time, I can look back at those years post-diagnosis with fondness and am beginning to truly appreciate the good things that came about as a result of my diagnosis. Things that wouldn't have happened without Perthes.
There is no doubt that any child with Perthes is special – you have to be if you are 1 in 9,000! The journey ahead will be unique to every child and there's no shying away from the fact that there will be challenges to overcome along the way. You don't need to feel alone on that journey though. There is so much help around you and you will discover common friends on the way that you never realised you have.
I thought I could help parents and children who are going through something similar. To offer hope and a way forward despite the madness that may have just unfolded in your life. Here's my story and some of the lessons I learnt along the way.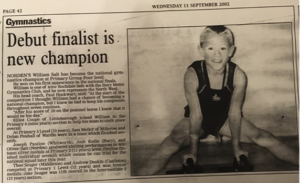 I can vividly recall walking out of the Alexandra Hospital after getting the news that I had Perthes. I was a national champion gymnast a couple of months prior and participating at football satellite academies for Blackburn Roversand Manchester City. Despite this, I was relatively unfazed in the moment (possibly shock looking back, or maybe just youthful naivety). However, my mum broke down as we walked out of the hospital, devasted. In honesty, I was a little bemused at why she was so upset. I ended up consoling her! My biggest memory of being diagnosed was my mum promising in that very moment to make my life as good as possible – a promise which she kept and which I am eternally grateful for.
I'd just received the news that I'd developed Perthes disease. After months of bizarre 'groin strains' as an 8-year-old, the mystery was finally solved! As the shock slowly wore off and reality kicked in – no more football with my friends, no more gymnastics and no more running in the playground – Perthes became a much more scary and sad reality for an 8-year-old boy to deal with. My condition was relatively mild on the spectrum, although I did still face life-changing challenges ahead of me. For a child whose life centred around sport, this was a difficult pill to swallow – a new, uncertain and very different world lay ahead of me. As an 8-year-old yo
u obviously don't have much experience of life and so the uncertainty of what was to come was initially the most daunting aspect.
The support and help I received during my Perthes years was remarkable – starting with my mum but including teachers, coaches, and every kind doctor I ever had the pleasure of meeting during my various scans and appointments. As a parent, it's important to raise awareness with the role models in your child's life – your support network will naturally expand, making your life easier and more relaxed as you can be assured that your child is in good hands!
The support I received enabled and encouraged me to find new opportunities and passions. As much as Perthes is a challenge to you and your child, it's also important (and I say this with hindsight) to view Perthes as an opportunity to explore beyond your comfort zones. Get used to being uncomfortable. Whilst some things will have been cruelly taken away by Perthes, it also provides you and your child with an opportunity to explore things in life you've never tried before – throw yourself in and throw yourself in hard. New passions will emerge and you will discover sides of your child you didn't know existed – whether it's a hidden talent for art, or a love of music, computers or singing. These are the things that will carry your child through the difficult years and discovering these alternative passions should be a priority. Your bond will strengthen as a result of this co-discovery of life. You will talk, you will laugh, and you will cry together.
There is so much that doesn't revolve around physical movement, so no matter what your child's physical condition is, make sure you discover what they love and try new things. Whatever they can or can't do today do, find a passion and help them to pursue it relentlessly.
I was fortunate enough to be able to swim as this was a none-weight bearing exercise and wasn't prohibited by my condition. I hated swimming before Perthes, detested it. But my mum helped me see the positives, persevered (I'm still not sure how you reason with a sulking 8-year-old?!) and I eventually ended up loving it. I was obsessed by it and went on to play water polo for GB in my teenage years with some fantastic memories. What a journey. And all because of Perthes.
If you are the parent in a difficult situation then it's important to guide your child through this process. They may not be the most enthusiastic to try new things as they bemoan the things they've lost but it's important to break through this – be the beacon of hope, positivity and reassurance for your child. Even if you don't feel like it on some days. Help them where you can and teach them how to think and approach their situation. If you need help, ask for it.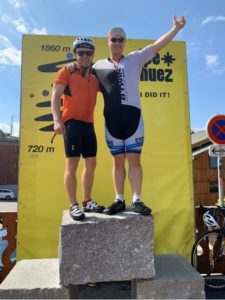 Casting forward to the years post-recovery, your child will emerge a more resilient human and the value of this cannot be understated. It may be hard to comprehend at this moment in time but I am glad that I had Perthes, as the disease has now gone but the lessons learnt and passions discovered along the way remain.
It's important to understand where you are, take a moment and understand that you are at the beginning of a journey. A journey unique to you and your child. You may not have chosen where you are, but you can choose how you respond. And if there's one thing to remember, it is that. Life is what you make of it and the biggest battles in life are often in your head.
Good luck.