Oscar was born with bilateral talipes equinovarus. According to Daisy, Oscar's Mum, he "had a very severe case,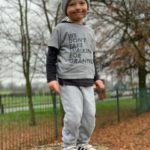 to the point where his big toes were effectively touching his shins. The paediatricians and physios at both Croydon University Hospital and St. George's Hospital were amazing and very quick to get treatment up and running for him."
"First of all, casts were applied on a weekly basis after physio sessions to try and correct the position of his feet as much as possible. After nine weeks of this, corrective surgery was still required to effectively cut his Achilles tendon, correct his foot position and apply a new cast for three weeks to ensure that the tendon heals and forms the correct length & strength. After those three weeks, the casts were removed and Oscar was put into some 'boots & bars' which are set at specific angles & widths to ensure his feet stay in the correct position. For three months he had to wear these 23 hours a day, with only an hour off for bath time. When he finished the three months, he then had to wear them overnight (for 14 hours), this will continue up until he is four or five years old."
"This is an incredibly long and strenuous process for a little hero that fit into our forearms when he first started the treatment for his condition! And it's not just Oscar that has been through the mill. As his parents, it has been tough to see him fight an incredibly steep uphill battle from the day he was born. Despite all of the practical hurdles that talipes has presented (even changing a nappy is a challenge with a baby that has a bar attached to his feet!), he has overcome anything that has tried to get in his way (including unrelated issues such as emergency surgery on his stomach and another operation to help correct his airways)."
Oscar has just run his first 5k, showing how far he has come already and proving that he doesn't take walking for granted. This was Oscar's first fundraiser and he raised an incredible £1,455!