We are extremely proud of Martha who has raised an incredible £1,336 for Steps Charity Worldwide. The money raised will go towards the publication of the new Steps Perthes' parent guide which will be distributed to parents, hospitals and health professionals for free.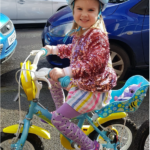 "We are so proud of Martha for completing eight cycle rides in October to raise money for Steps and raise awareness of Perthes disease during Perthes Awareness Month. In total, she managed to raise £1,336!"
"Martha has just turned five and she was diagnosed with Perthes in her right hip when she was three. She has good days and bad days, days when she gets frustrated at not being able to do the same things as her friends and days when she has a lot of pain. But we are amazed at her resilience and determination to not let her Perthes take over her life. We hope that the money raised will be able to help Steps support many families as their children live with this condition and we want to send all our best wishes and love to the whole Steps community."
Rebecca, Martha's mum.