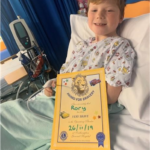 At age eight Rory was very active and his main passion was football. He played at every opportunity and enjoyed scoring goals for his local team Woolton Hill.
After a summer of complaining about pain in his leg with the occasional limp we thought this was a sign of the future sporting injuries to come. As the limping increased doctors were convinced it was "growing pains" but we were not as the pain would at times wake Rory in the night. After seeing a specialist at Southampton Hospital last November Rory was diagnosed with Perthes disease (see below for more detail). 
We had never heard of Perthes before and did not know what to do or expect. Rory was immediately heartbroken that he would not be able to play football for the next few years. He was also scared for his upcoming operation and the fear that he would not be able to play with his friends like other 8 year old children. 
Two months later Rory had his "shelf" operation which strategically placed bone to protect the ball part of his hip joint. Rory was so so brave and a true "Perthes Warrior". 
Rory cannot join in PE at school, he cannot jump, run or walk without crutches but he can swim and he loves it! We go swimming regularly and this has really helped his recovery whilst also allowing him to join in a fun activity. 
He is now one year into using his crutches and has one more year to go. The #perthesjourney is a long one but he is coping tremendously, and he makes us extremely proud. 
Mum's Challenge: As I am so in awe of our brave warrior, I wanted to raise awareness for Perthes disease. When I was trying to think of ways to fundraise, I thought "what do I least like doing?" and the answer was obvious….RUNNING. I really want to love running but I don't, I am NOT a natural runner!  
Kelly has run 100Km over five weeks, starting the 17th of November and finishing the 15th of December 2020. She has raised an incredible GBP £1,825!