Haley and the ladies from Curves gym in Scotland challenged themselves to walk 10,000 steps every day for the full month of July to raise awareness and funds for Steps Charity. Haley is a Steps volunteer and this is her fundraising story: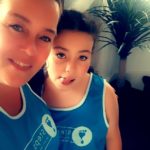 My daughter Ellie was born with DDH and had a Pavlik harness fitted at seven weeks old. She wore that for 13 weeks and thankfully this worked for her and her hips were fine after that.
However, I remember being told at the time she had "clicky hips", I was never once told by the doctors that she had developmental dysplasia of the hips.
I wasn't offered any support or given any advice on the condition. I was basically just told to keep the harness on Ellie 24/7 and come back for my next appointment.
Therefore, as well as raising money to support Steps, I am trying to raise awareness of the conditions and that there is help out there for families who may be struggling. I have to say I am quite overwhelmed at the response from the Steps challenge. When these women commit to something, they go ahead and smash it out the park 🙂
You can support Haley's challenge here.