Perthes disease is a condition that results in collapse of a child's hip bone, affecting their ability to run, play sports and for some children making even walking difficult. Perthes is a condition about which there has been relatively little research to date, leading to uncertainty about the best treatment, but this is slowly changing. Adam Galloway, a paediatric physiotherapist and Visiting Academic Clinical Fellow at the University of Leeds, is contributing to a growing body of work researching the effectiveness of different surgical and non-surgical treatments.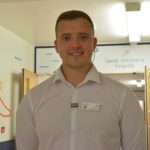 Adam says: "Currently we have a lot of unanswered questions regarding how best to manage patients with Perthes disease. One of our main focuses in terms of research is to explore whether surgery is needed or not for some patients and to do this we need to run a trial to compare the outcomes for patients who have surgery, and those who don't."
"With insufficient research evidence for guidance, clinicians have differing views about treatment options. These vary from observation alone, to plaster casts, to invasive surgery. Physiotherapy treatments, including exercise & rehabilitation or advice on lifestyle change, are often considered important parts of care but there is little evidence about the effectiveness of this rehabilitation. Parents have told me that there is a lack of consistent advice between physiotherapists and orthopaedic surgeons and specialists, and that this can cause them considerable anxiety."
Adam has just secured funding from the National Institute for Health Research (NIHR) to complete a PhD to develop a digital rehabilitation programme of care in the form of an app which is accessible for all children with Perthes disease. "My research is split up into three workstreams," he explains. "One, speaking to key stakeholders (children and families' clinicians, clinical nurse specialists, physios, surgeons and so on) to discuss the current experiences of non-surgical care and doing qualitative interviews and identify gaps in non-surgical treatment. In the second, I'll be working with NHS Digital, and a local app developer to develop the app. We don't know what that will look like, but it should make it possible both for people to access information about the disease and for children to log their exercise and other progress. Finally, we'llbe testing it with a small group of patients and families, to assess how useful it is as a non-surgical treatment."
The overall aim of the research, which will last four years, is to develop a better understanding of the experiences of children and their families when being treated for Perthes disease. Working with organisations like STEPS helps Adam access patients and families affected by Perthes, ensuring the voices of those most impacted by the disease are included. This information, combined with the expert opinion of clinicians and the summary of existing evidence, will ensure that the decisions we make to treat children with Perthes in the future are the best informed.
Find out more about why research into Perthes is needed with our webinar from Adam Galloway.